You have a book inside of you!
It's ready to make its way onto the page and into the minds and hearts of your readers.
Let us show you how to make that book a reality!
This November 3-5, 2022 escape into the mountains to Utah's scenic Bear Lake for a three-day, two-night retreat where you will get an in-depth look at de Tello Publishing's
5 Phases of Profitable Publishing.
Rejuvenate your spirit with the fresh mountain air and stunning lake views as we present five value-packed workshops on how to write, edit, publish, market, and expand on the success of your book.
We help entrepreneurs become authors and authors become entrepreneurs as we teach you what it takes to not only write your book but also turn it into a source of income.
Meet other authors, business owners, and writers as we relax, enjoy delicious food together, network, learn, write, and begin applying the many strategies and writing tips you will need to succeed as an aspiring author.
3 Days & 2 Nights at a Luxury Bear Lake Cabin
5 Value-Packed Workshops

Writing
Editing
Publishing
Marketing
Expansion

3 Delicious Dinners & 2 Breakfasts
The Writer's Profitable Publishing Workbook
Lifetime Access to Workshop Recordings and Slide Presentations
The 5 Phases of Profitable Publishing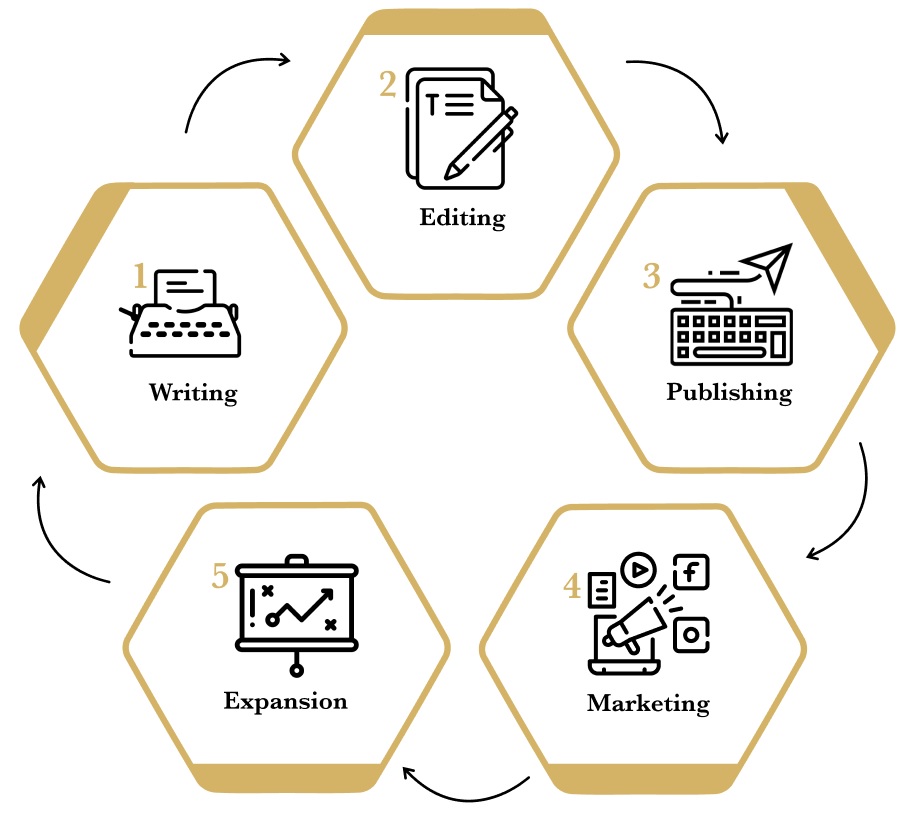 4:30 -5:30 pm – Guest Arrival and Check-In
5:30 pm – Welcome
6:00 pm – Welcome Dinner and Keynote Speaker: Becca Wilhite –  "Unputdownable: How to Craft a Gripping Story"
7:00 am – Optional Morning Yoga Class, Group Workout
8:00 am – Breakfast 
9:00 am – 11:00 am – Phase One: Writing Workshop 
Finding (Researching) the Perfect Book Idea(s)

How Writing a Book Can Shape and Improve Your Business 

How to Write a Bestseller 
11:00 am – 1:30 pm – Free Writing Time/Lunch on Your Own
1:30 pm – 3:00 pm Phase Two: Editing Workshop
An Introduction to the Editing Process 

How to Work With an Editor

Finding Your Tribe: The Value of a Writing Group

 

Peer Reviews
3:00 pm – 4:00 pm Free Time
4 pm – 5:30 pm Phase Three: Publishing Workshop
Traditional vs. Self-Publishing: The Validation Station

Your Self-Publishing Checklist 
6 pm Dinner
8 pm Ice Cream Bar & Movie Night
7:00 am – Optional Morning Yoga Class, Group Workout
8:00 am – Breakfast
9:00 am – 11:00 am – Phase Four: Marketing Workshop
Social Media for Authors

PowerLaunch Publishing: Book Marketing for Business Owners

Email Marketing, Amazon Ads, Content Marketing, and More 

How to Get Rave Reviews
11:00 am – 1:30 pm – Free Time and Lunch on Your Own
1:30 pm – 3:30 pm Phase Five: Expansion Workshop
Build on Your Book: Tracking Your Success and Building Your Business Systems

Become a Thought Leader: Leverage Your Book to Scale Your Influence

The Creator Economy

Turn Fiction Writing Into a Career: We're All in This Together

Start Your Website: From Book to Blog to Business
3:30 – 5:00 pm Free Time
5:00 pm Dinner and Closing Remarks
7:00 pm Checkout*
*Please contact ashley@detellopublishing if you will need additional accommodations the night of Saturday, November 5.
Meet Our Incredible Speakers
Ashley is the founder and CEO of de Tello Publishing, a company born out of her passion for the power of words. With a background in international relations, economics, and political science, she thrives on making difficult topics easy to understand and even fun to read about. She has built a team of amazing writers and editors who love doing the same, helping business owners and other aspiring authors to bring their books to life and turn their ideas into profitably published masterpieces.
As an author of both romantic comedy and historical romance novels, Becca Wilhite is both traditionally and self-published. She has graciously agreed to come for the whole retreat, so attendees will not only get to hear her keynote address on how to craft a good story but she will also give us an inside look at the pros and cons of traditional vs. self-publishing and share all her tips and tricks for how to go beyond book one to write and profitably publish multiple books. Becca loves hiking, Broadway shows, rainstorms, food, forests, books, and movies. She lives in the mountains and adores the ocean, and dreams of travel but loves staying home. Happiness is dabbling in lots of creative activities, afternoon naps, and cheese. All the cheese. You can find her at beccawilhite.com.
Carole has published multiple novels. Besides writing, she loves the great outdoors and spends her time roaming the hills and mountains in Northern Utah, making pottery, and enjoying life with her husband of 30-plus years. She and her husband taught school in a K-10 two-room school with 24 students in the small town of Grouse Creek. The nearest grocery store was sixty miles away and most of the road was dirt and windy (still is). Much of her writing was inspired by the six years she spent living there. Now, she lives in Cache Valley, Utah.
Curtis Howe is the Owner of SMRT Social. SMRT Social focuses on helping businesses use Social Media effectively to reach their goals. SMRT Social has been around for 10 years and has helped hundreds of businesses. Curtis has started numerous businesses in his 20 years in entrepreneurship and mentors business owners to help them reach their goals.
Jackson teaches visionary entrepreneurs with service-oriented organizations how to unlock sustainable revenue growth and expand their legacy by becoming a Power Brand in their market. 96% of businesses fail within the first 10 years. Jackson teaches businesses, not only how to avoid failure, but how to win, by becoming a true leader in their market.
Julie Dymock is a mother of five and grandmother to 18. After 27 years of full-time homemaking, she returned to college and earned a bachelor's degree in family studies, and a master's degree in Marriage and Family Therapy. Julie is an advocate for mental health on social media, works as a mental health therapist in Cache Valley, has taught for BYU Continuing Education programs, and lectured at BYU Campus Education Weeks. She loves hiking, gardening, traveling, exploring the outdoors, and journaling, and has been part of a successful writing group for over two decades.
Madeline graduated from Utah State University with a BA in English. She loves reading, writing, editing, learning, exploring new ideas, being outside, and spending time with her family. She is de Tello Publishing's fiction expert, balancing our largely non-fiction writing team with her incredible creativity and kindness.
Rick Meekins is a marketing and business strategist, entrepreneur, and investor that works with growth stage small businesses to help them stand out in the marketplace. He runs three companies – Aepiphanni Business Consulting – an Operations & Strategy Consultancy, CONVRG Integrated Marketing, and WistBooks Financial Management.
Tony Lopes is the CEO of Dirty Boots Capital as well as an author, speaker, Youtuber, influencer, macroeconomic enthusiast, and thought-Leader. Tony's passion is helping people create a life of freedom with an abundant ROL (return on life).
Come ready to enjoy a delicious menu!
Is This Retreat Right For You?
This retreat is the perfect fit for you if:
You have always wanted to write a book but don't know where to start,

You have already written the first draft of your book and want to know how to get it edited and published,

You want to know how to market your book so that it sells more copies and opens more doors,

You want to leverage your book as a business tool to establish your authority in your field, get speaking gigs, and scale.
Archive Membership
Lifetime Access to Retreat Archives